Getting Started with Roulette Assault
These instructions assume that you have already downloaded your trial of Roulette Assault
If you haven't you can get your trial by entering your name and email address in the form at the bottom of this page.
When you download Roulette Assault (RouletteAssault.exe), it is a stand alone program with NO installer, so it can run straight from the place where you saved it.
We recommend that you read over the instructions before you start Roulette Assault, as once you hit the Later button, your trial starts.
Click here to read the instructions.
Once your run Roulette Assault, the first thing you will want to do is click the Later button. This will start your trial.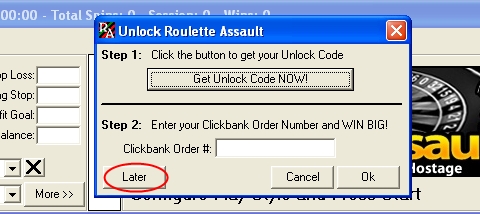 Next, you will load up your favorite Playtech casino.
Click here for a list of casinos that Roulette Assault works with.
Once the casino is loaded, select the European Roulette Table, sometimes called Single Zero or Roulette Pro:

Some Casinos have Premium Roulette Pro and Premium European Roulette. DO NOT USE THESE!
Instead, use just the Roulette Pro table, like here in this next graphic: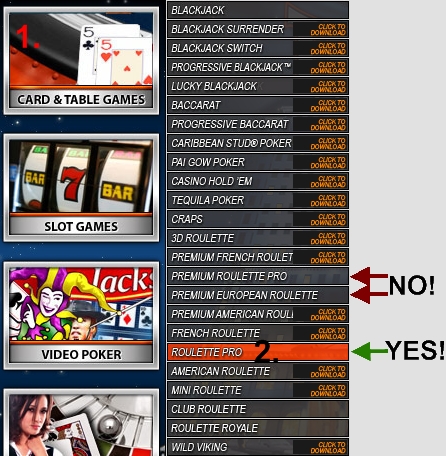 Once the Roulette Table is loaded, you will need to adjust some features in the Options Menu.
On the lower right corner there is Menu - Options:

Make sure Fast Play is Checked in Game Options: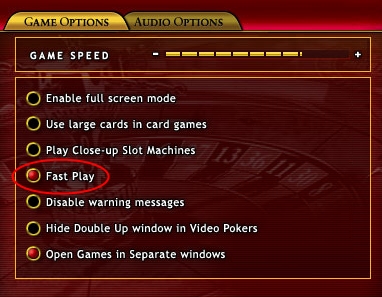 Uncheck the following to Audio Options: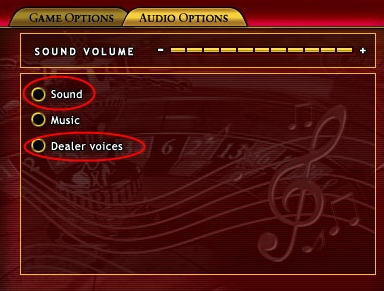 Click OK.
Now, click the More >> button so you can see the Automation Settings.
Click the dropdown menu, and select New...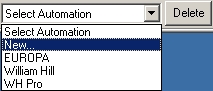 Please refer to "The Roulette Assault Automation Module" in the instructions to get automation set up.
Once your Automation Profile is set up, you are ready to start playing a Roulette System. There are four to choose from.
Initially, we recommend that you use play money with the sleeper system on default settings.
All settings for each system can be accessed using the More >> button.
Here are settings for extremely low risk using the Sleeper System:
| | | | |
| --- | --- | --- | --- |
| Even | Dozen | Row | Line |
| Random: ON | Random: ON | Random: ON | Random: ON |
| Low: 10 | Low: 18 | Low: 18 | Low: 30 |
| High: 15 | High: 22 | High: 22 | High: 43 |
| | Multi: 2 | Multi: 2 | Multi: 3 |
In Advanced Wagering, select Auto-Calulate Wagering. Set your Wins/Table and Time to your desired setting, but you can go Unl. if you have a profit goal set.
Here are some recommended settings for the Six Point Divisor:
Select a Dozen or Row.
Set your Target / Divisor to 24
Check off Safety Brake, and set it to 10
Brake until 8
Select Re-Create Wager
It is always a good idea to create a history and just let Roulette Assault run in Foreplay mode (no bets are placed). This way you can record around 30,000 numbers and then play around with your settings and run the Analyzer. The analyzer can process 30,000 numbers in a few minutes, and helps you tweak your settings. You can also record as many numbers as you want. 30,000 is just a number I pulled out of the air.
The About Roulette Assault Box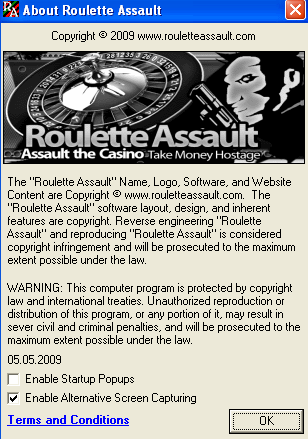 If for some reason Roulette Assault is not properly capturing numbers you can try the Alternative Screen Capturing method.
You will know if there is a problem when you try to create an Automation Profile and it freezes at 3%.
Select "Enable Alternative Screen Capturing" and try again.
Also, you can disable those annoying popup ads by un-checking the Enable Statup Popups.
Those Crazy Error Messages
1. Play Style is not properly set up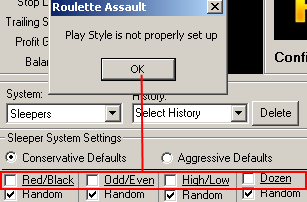 This only happens when you have the Sleeper system selected, and means that you need to select at least one bet type (Evens, Dozens, etc).
These settings are available when you click the More button.
If you haven't already, you can gain access to the Free Trial by entering your details below:
Gain FREE Access To Roulette Assault Now!
Use It For 48 Hours Completely Unlocked!

Get Started For FREE And...

Earn The Price of Roulette Assault - Pay With Your Winnings!


Build Your Prefect Roulette Strategy Using Complete Customization And Analysis!